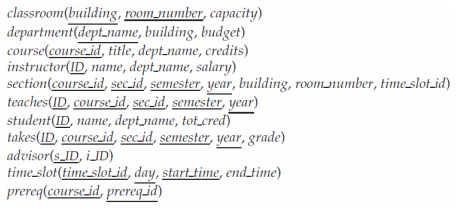 using the above schema solve the following queries
1) Create a section of this course in Fall 2009, with section id of 1.
2) Enroll every student in the Comp. Sci. department in the above section.
3) Delete enrollments in the above section where the student's name is Chavez.
4) Delete the course CS-001.
5) Delete all takes tuples corresponding to any section of any course with the word "database" as a part of the title; ignore case when matching the word with the title.
classroom(building, room number, capacity) department dept-name, building, budget) courselcourse id, title, deptname, credits) instructor(ID, name, dept.name, salary) section(course id, sec id, semester, year, building, roomumber, time slotid) teaches(ID, course id, sec id, semester, year) student ID, name, dept name, tot cred) takes(ID, course.id, secid, semester year, grade) advisor(S-ID, İJD) time slot(time-slot.id, day, start time, endtime) prereq course id, prereqid)