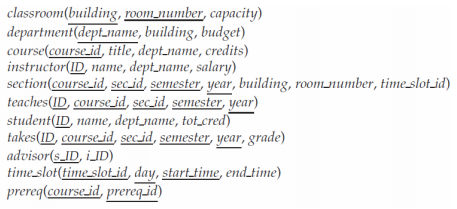 using the above schema solve the following queries
1) Find the IDs of all students who were taught by an instructor named Einstein; make sure there are no duplicates in the result.
2) Find all instructors earning the highest salary (there may be more than one with the same salary).
3) Find the enrollment of each section that was offered in Fall 2009.
4) Find the maximum enrollment, across all sections, in Fall 2009.
5) Create a new course "CS-001", titled "Weekly Seminar", with 0 credits.
classroom(building, room number, capacity) department dept-name, building, budget) courselcourse id, title, deptname, credits) instructor(ID, name, dept.name, salary) section(course id, sec id, semester, year, building, roomumber, time slotid) teaches(ID, course id, sec id, semester, year) student ID, name, dept name, tot cred) takes(ID, course.id, secid, semester year, grade) advisor(S-ID, İJD) time slot(time-slot.id, day, start time, endtime) prereq course id, prereqid)